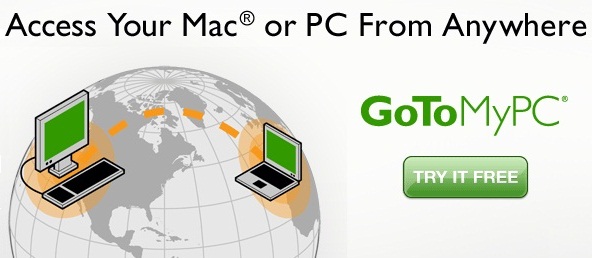 GoToMyPc is the easiest and most secure way to remotely access your home or office computer from anywhere. After it has been installed you can logon to your computer directly from your web browser and even your PDA. It is perfect for any individual who needs to be remotely connected to another computer – at home, on vacation or on business travel.
► Sign up for a 30 days free trial of GoToMyPc now!
GoToMyPc is a mixture of todays computer technology with SSL and AES 128-bit encryption that makes it as secure as home banking presented in the easiest way. It is not harder to install than any other software and can be used by anyone.
Press and Awards – Best Remote Access Software
LAPTOP Magazine wrote:
What really seals the deal is a superbly simple interface that integrates most functions on a single screen and installs more easily than a downloadable game. Browser based and practical, GoToMyPc gives everyday users full-screen access to their desktops from a Web site, with full copy and paste, printing, and simple file transfers.
Reviewed by: CNET Staff on November 08, 2008

In the age of broadband, there aren't many reasons to not be able to smoothly control your primary PC from a remote computer. GoToMyPc fills that niche, with an automatic install and quick registration process, crossplatform functionality, handheld device and multiple monitor support, and AES 128-bit encryption
How GoToMyPc Can Change Your Life
The fast pace life of today has us all on the move. Many people are expected to make intercity as well as international trips has become part of the job. Although this is the very nature of the corporate world today, the corporate class loses out by being absent from their office space. This is because when on the move they have no access to their office PC which has all the important information, files and programs that the individual may need to access while on journey.
Much to the deliverance of the corporate traveler there are certain web based services that will let you access your office PC from any web browser from anywhere in the world. Through such services you can actually access your PC from any wireless device that has the essential functions. Not only does this give the individual the chance to access his PC if need be it actually adds to the individual's flexibility as he now has the chance to simultaneously work on parallel projects while being on the move.
If for some reason you cannot reach your office and are confined to the boundaries of your home you can make use of this service to access your office PC from the comfort of your home. In this way you can avoid causing any problems to your employer by pitching in with your share of the work while being physically absent from the office.
This revolutionary service is yet another gigantic step for mankind as we find it to be bridging the travelling gaps and giving corporate workers the chance to maximize their utilization of time and hence offering the masses a chance to be more productive than ever before.