As we said earlier this week, we seem to have spent a hell of a lot of time researching and writing about the clothing and accessories worn by Ryan Gosling in his various recent uber-stylish movies. Just in the last month we've posted articles about his necklace and sunglasses in Crazy Stupid Love, and his driving gloves in the 2011 movie Drive.
This last subject brings us onto another part of the Drive costume: the awesome denim jacket worn by Gosling.
Most of our movie fashion articles involve a lot of running around and pain in the ass research as to the exact makes and models worn by the stars, but in the case of the Ryan Gosling denim jacket we couldn't have had an easier time working out the details. We went straight to the source: Erin Benach, the costume designer for Drive.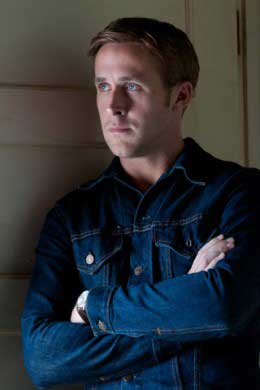 "The denim jacket was a vintage Levi's that we tailored a little bit for Ryan. Then we had to multiply it by 12 for all the blood in this movie…"
While the jacket may be a vintage model, the folks at Levi's have never been ones to drop a classic look. You can still find the jacket, the 'Trucker', in Levi's current lineup.
The jacket, a slim fit model in 100% cotton (naturally) is part of the Red Tab range, and both Gosling's jacket and the current edition are modeled on the classic 1967 Levi's Trucker. Here are a couple shots of the iconic jacket…
Our favorite feature of the jacket (apart from the awesome slim fit lines) is the oversized collar. Most modern denim jackets opt for a smaller collar, and frankly it looks a little silly.
So, whether you want to emulate Ryan Gosling or just want to wear a great denim classic you really can't go far wrong with the Levi's Trucker, and at just $74.99 you don't really have an excuse.