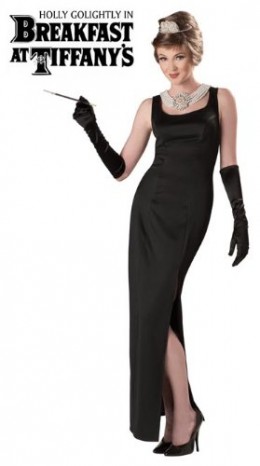 We're always looking to the movies for fashion inspiration but, despite the fact that we must have spent thousands of hours staring at the screen in our time, if there's one movie that stands head and shoulders above the rest when it comes to style it's Breakfast at Tiffany's.
Audrey Hepburn's star turn in the movies introduced the world to the idea of the 'little black dress'. In fact, a LOVEFiLM poll voted the Audrey Hepburn dress as the best dress ever worn by a female on film (clunky wording, I know… they were clearly leaving the door open for a later poll on the best male dress in a film).
Naturally, when you watch Breakfast at Tiffany's your first thought is 'where can I buy Audrey Hepburn's dress?' Well, assuming you don't have millions of dollars to spend on your wardrobe you're bang out of luck. The original Audrey Hepburn dress, made by Givenchy for the movie, was auctioned at Christie's in 2006 for a whipping £467,000 ($770,000).
But that's not to say you can match the look, even if you'll never wear the original dress itself. In the years since Breakfast at Tiffany's hit the screens there have been many attempts to copy Holly Golightly's iconic little black dress, but the only one that has come close (and at an attractive price, too!) is made by a company called California Costumes.
While the dress itself is marketed at a novelty item (it ships with replicas of the tiara and necklace worn by Hepburn in the movie) it's actually surprisingly well constructed. The material is all satin and the dress, I'm told, is extremely comfortable and feels high quality (I had to abdicate responsibility for trying on the dress personally, what with being a man and all).
Of course, that's not to say that you have to go down the costume route to get a dress like the one worn by Audrey Hepburn. The dress itself is a simple number (that was part of its appeal), and it isn't hugely important that every detail is screen accurate). To that end we sent some of our most stylish friends out to go on a little black dress search, with the brief that their chosen dresses shouldn't look out of place on the set of Breakfast at Tiffany's. The dresses should be simple, without superfluous details. They should be slinky, classy and sexy. Most importantly, they shouldn't look at all slutty. Hepburn was nothing if not classy, so the perfect Audrey Hepburn dress must say 'drinks and dancing' rather than 'get me liquored up and we'll screw'.
Two weeks later our friends reported back with their choices. We're no fashion experts, but we think these look just great. Without further ado, here are our choices for the perfect little black dress…