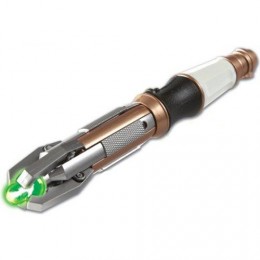 In my role as 'cool uncle' to my three young nephews I take it upon myself to educate them on the subject of quality television (lesson one: stop watching The Wiggles). My greatest success to date has been to indoctrinate the oldest, a 7 year old, into the cult of Dr Who. I showed him his first episode at the beginning of 2010, and at this point you can barely move in his bedroom for sonic screwdrivers, papier mache TARDIS models and Dr Who action figures. I'm so very proud.
As Christmas is approaching I thought it was time to head out and find some Dr Who gifts for the wee nipper, and the moment I stepped into my local toy store I realized that I'd have no trouble this year in finding a suitable gift for my Dr Who obsessed nephew.
The range of Dr Who gifts, from toys to poster to candy to video games and everything in between, is truly phenomenal. There's something about Dr Who that lends itself to commercialization, despite the fact that the show has, for decades, been produced by the BBC, one of the few television networks that doesn't (and can't) sell advertising time.
Once I got home from my Dr Who shopping spree it occurred to me that it might be worthwhile to write a little something about the wide range of Doctor Who gifts available for Christmas 2011. I'm sure I can't be the only parent, uncle or aunt with an excited young fan to buy for this Christmas.
So, without further ado, here are a few of my favorite Dr Who gifts for Christmas 2011. I've made an effort to include everything from cheap stocking fillers to fancy toys to video games, ensuring that you'll find a gift for your little Dr Who fan at every price…
Dr Who Toys and Games
Eleventh Doctor (Matt Smith) Sonic Screwdriver
I love this little thing. Last Christmas I bought the previous version (David Tennant's sonic screwdriver) for my nephew, and he didn't put it down even for Christmas dinner). Matt Smith's 2011 version actually looks a lot cooler than Tennant's screwdriver, but if you're shopping on a budget you can get the previous version for about half the price of the 2011 screwdriver.
The sonic screwdriver has LED lights and cool sound effects, as well as a spring loaded extending section just like the real thing. Personally, I played with this thing for about five minutes after I bought it and I'm baffled as to the appeal, but the sonic screwdriver is still my nephew's favorite toy. There's something about it that seems to carry a little of the magic of the show – much like the lightsaber of my youth.
Anyway, don't take my word for it that this is an awesome toy. Check out these great customer reviews.
Dalek Desktop Patrol Toy
I know I'm a big kid, but I couldn't resist treating myself to this little gizmo. The Dalek Patrol toy couldn't be simpler. It's just a 4 inch tall Dalek model that wheels around your desktop yelling 'EXTERMINATE!' There are sensors on the base that keep it from driving over the edge of the desk, so you just set it running and let it do its thing. Silly, I know, but I've had this thing running on my desk while writing this article and it never fails to tickle me.
Naturally there's no greater enemy of the Doctor than the Daleks, so it's hilarious to see the stuff of nightmares rolling impotently around a desktop banging into a stack of books. I guess you need to have grown up with Dr Who to grasp the terror these things used to strike into my heart as a child, so it's fun to watch a harmless little toy on the monsters that used to send me scurrying to hide behind the sofa as a child.
Dr Who Spinning TARDIS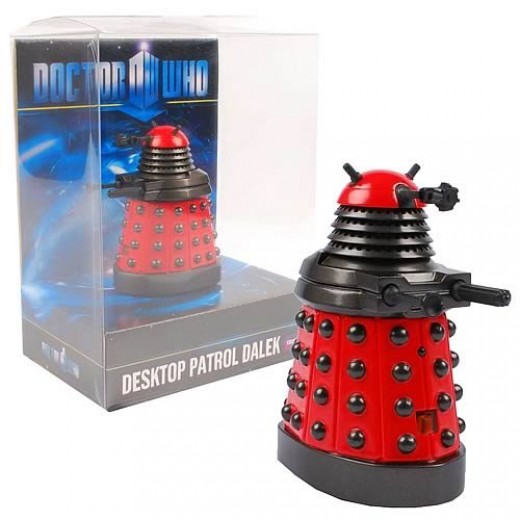 N.B. This isn't so much a toy as a cool gadget. I bought the Dr Who spinning TARDIS for my nephew for his birthday earlier in the year, and it now has pride of place on the mantelpiece in the front room (he cries whenever my brother tries to move it to his room).
This thing never ceases to amaze me (I was one of those kids who could play with a spinning top for hours without getting bored). The TARDIS is suspended in place by electromagnetic force, and as soon as you touch it it starts spinning – and never stops. This isn't so much a kid's toy as an example of the fact that we're living in the future. I remember seeing a similar curiosity in a science museum as a kid, and I remember thinking how could it'd be if I could have one of these at home. A few decades later and you can buy one as a novelty for about 30 bucks. Incredible. Now where's my jetpack?
Dr Who DVDs
Of course no real fan would ever be without a DVD collection of the series. Personally, I've got a DVD and VHS collection large enough to fill a TARDIS (I even kept my old VHS player so I can go back and watch the old Tom Baker episodes.
These days, though, it's all about DVD and Bluray – more specifically, it's all about the Eccleston, Tennant and Smith era. Even my nephew, diehard fan that he is, didn't want to sit through old episodes from the 70s.
This Christmas, then, an ideal Dr Who gift would a DVD or Bluray edition of the modern Dr Who. My favorite (the Bluray disc I've bought for myself as an early Christmas gift) is the Complete Doctor Who Specials collection, including The Next Doctor, Planet of the Dead, The Waters of Mars and The End of Time – check the link on the right.
Dr Who Video Games
This isn't exactly aimed at Dr Who fans of my age, but the kids will love the Doctor Who: Evacuation Earth video game for the Nintendo DS. The game is a puzzle adventure in which you guide the Doctor and Amy Pond through a series of adventures. There are 100 puzzles to work through, including 3 types of mini game. The game is voiced by Matt Smith and Karen Gillan (the Doctor and Amy Pond), and the story is written by Doctor Who author Oli Smith. All in all this is a solid game that'll keep the kids busy on Christmas Day while the grownups get down to the real fun of Christmas (drinking heavily while snacking on leftovers).
Dr Who Stocking Fillers
Of course, Dr Who Gifts don't always have to cost any more than a few dollars. Here are a few cheap, fun Dr Who stocking fillers.
Dr Who Pencil Tin
A great little pencil tin for school-going Dr Who fans. At $6.99 this makes a great stocking filler!
Dr Who Windup Dalek Toy
Another perfect sub-$10 Dr Who stocking filler is this windup Dalek toy. It's just a simple little clockwork gizmo – wind it up and let it loose!
Dr Who Talking Keychain
With six pre-recorded sound effects from the show, this is the kind of thing that the kids will love – though we should warn you, the grownups will go crazy after a few minutes!