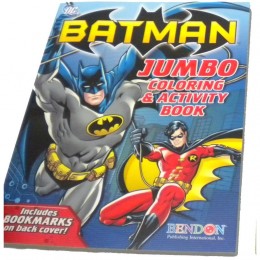 Christmas is coming and it's once again time to head out to find a few little stocking fillers to keep the kids entertained through the Christmas period. Christmas, of course, is not only a time for celebration but also that one time of year when you absolutely have to make the five hour journey to your sister's house two states away (why, Christmas, why?), and you'll need a few little distractions for the journey,
Well, there's nothing better for keeping the little ones quiet than a selection of Batman coloring pages. Here, then, are our top 5 Batman coloring pages for Christmas 2011.
Batman Activity Book
This enormous 96 page coloring book comes with a cut out card game and a free pack of 24 crayons. At just $2.99 you won't find a better value stocking filler than this!
DC Comics Batman Coloring Book
This double set of official DC coloring books come with two titles: "The Caped Crusader" and "Gotham City Limits". The books are packs with puzzles, games, mazes and coloring pages.
Batman Jumbo Coloring and Activity Book
This jumbo activity book is packed with puzzles, card games and coloring pages. This is one of our favorites – it heavily features the Joker, our top Batman villain of all time!
Batman Jumbo Activity Book
With 400 fun-packed pages this coloring book will keep the kids busy for hours, days and weeks (don't forget to supply fresh crayons every couple of days, though). This book is technically out of print, but you can grab one from Amazon while stocks last.
Batman Begins Coloring Pages
This blast from the past comes from the original reboot movie, Batman Begins. I love this coloring book for its realism, so this is probably best for older kids who feel they've outgrown kiddie cartoons.