So, I'm in Mongolia, a thousand miles and a trip across the Gobi Desert to the nearest Apple Store, and I'm visiting my friend Meg and her toddler in the city of Ulaanbaatar. The kid loves playing with my iPhone, and long story short I'm stuck with a ten year old Nokia cell phone until I can next find the time to go shopping in Beijing.
Long story long… Well, all babies love iPhones and iPads. There's something about the simplistic, intuitive controls that appeals to them, so whenever I find myself in the presence of a toddler working his or her way through a crying fit I bring up the camera and hand over the phone. Little Otco can while away hours staring at his own face in the screen.
Last week, though, it got a little out of hand. Otco, while we were busy tucking into dinner, found the music player, played a little of The Kinks and, with his little toddler arms flailing around in dance, lost his grip on the iPhone and hurled it across the room with such force that it stopped dead. My iPhone is no more.
It's with more than a little irony, then, that I opened my morning newspaper to find an advert for the Fisher Price iPhone case, a product of such impossible simplicity that I almost literally kicked myself for not thinking of it first.
The Fisher Price iPhone case is, quite simply, a protective colorful case for you iPhone. You insert your iPhone or iPod Touch into the case, seal it up so baby can't remove it, and let them play without worrying about them damaging your precious iPhone.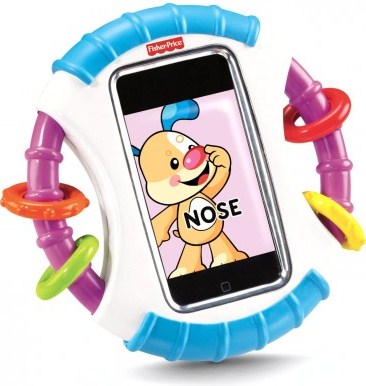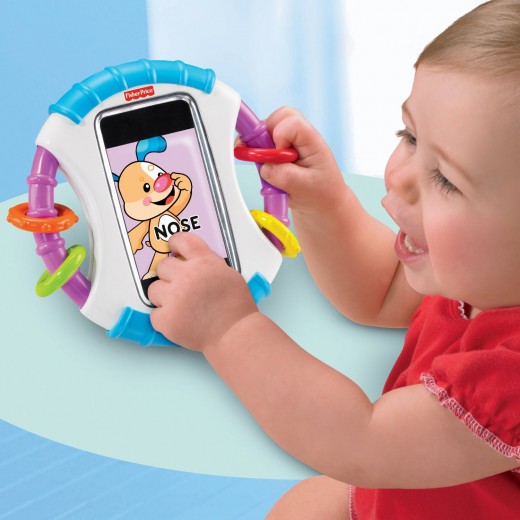 I think this is a fantastic (and fantastically simple) idea. The Fisher Price iPhone case comes with three free apps that can be downloaded from the iTunes Store, each designed to work perfectly within the confines of the case and each lots of fun for babies and toddlers to play with.
Take a look at what 46 users of the Fisher Price Apptivity Case think of this great little gadget!