Link Directories
Requesting backlinks from link directories is amoung one the oldest and most primitive ways to get backlinks. These link (directories) are typically defined as either paid or free and are either way an easy way to get backlinks from high PR websites. The following two lists includes the top 5 paid and free directories.
Top 5 Free Link Directories
www.dmoz.com
www.somuch.com
www.gimpsy.com
www.primodirectory.com
www.exactseek.com
Top 5 Paid Link directories
dir.yahoo.com
botw.org
www.business.com
www.joeant.com
www.webworldindex.com
Guest blogging
The term guest blogging covers the act of blogging (writing blog posts) on external blogs for the purpose of achiving awareness of your brand/website (e.g. in terms of a (high PR) backlinks). Some of the most well known blogs that accept blog posts from guest bloggers are listed below.
Top 5 Guest Blogs
www.dailyblogtips.com
echie-buzz.com
www.tripwiremagazine.com
www.quickonlinetips.com
inspirationfeed.com
Social Bookmarking
Social Bookmarking websites are designed to help users share links (e.i. stories, pictures/images, and videos) amoung the community. Assuming you have something share-worthy, using social bookmarking may not just provide you backlinks but also traffic. Below you will find the five biggest social bookmarking websites.
Top 5 Social bookmarking Websites
www.digg.com
www.reddit.com
www.delicious.com
www.diigo.com
news.ycombinator.com
Paid posts/paid links
Buying blog posts (or links) is often a more complicated matter. Since it is against Google's 'Terms of Service', most blog owners don't advertise this option. Instead, you will have to either establish a direct deal between you and the blog owner. To find blog owners that are willing to negotiate such deals, you can browse through some of the popular networks (e.g. SponsoredReviews.com) or forums with categories for such specific deals (e.g. Digital Point).
Article Publishing
In the past years, article publishing has become one of the most popular methods to get high PR backlinks. All it takes is a well written article (advisable in the same niche as your company/website).
Article Directories
ezinearticles.com
goarticles.com
www.pubarticles.com
www.ezinemark.com/
www.articlecube.com
Press Release Publishing
By using press release services you can target anything from local media and larger networks including Google News And Yahoo! News.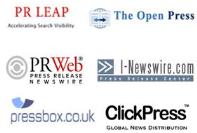 RSS Directories
The advantage of Really Simple Syndication (RSS) is self-explaining. By submitting your RSS feed to the top RSS directories you make sure that all your new posts/articles get a few quick backlinks right after they have been published on your website.
Social Media
Social media is a great way to get both direct and indirect backlinks, as many (profile) pages are synchronized with other websites. Additionally, many social platforms (including FaceBook, Twitter and Google+) offer free exposure to a targeted audience.
Blogging Platform
The advantage of using blogging platforms is that you have full control of the content posted. As long as you follow the 'Terms of Service' for each platform, the content you post is the content the visitors will see. It also means that you will be able to create a more relevant page/site to link from.
Top 5 Guest Blogs
www.blogger.com
www.wordpress.com
www.blog.com
www.tumblr.com
www.blog.co.uk
Automatic Tool
A series of software is available to (semi) automate many of the mentioned methoeds to get high PR backlinks. A few of them are mentioned below.
AutoPligg – Fast social bookmarking to most pligg platforms.
SENuke – Simplifies submission of articles, press releases, and more.
The Best spinner – Easy spinning of articles (mostly used for article publishing)
Though, you should be aware that using the mentioned tools may be in violation of Google's quality guidelines.
Web 2.0
Like blogging platforms, web 2.0 platforms often provides (parts) of the same control of the page. But opposite to blogging platforms which requires you to create and run an entire blog/website, web 2.0 platforms are often based on single pages. The two most popular websites in this niche are Squidoo and HubPages.
Link Baiting
Creating a hype about your brand/website by twisting the way you present your content can generate a great deal of backlinks for your website. The mentioned article below shows a set of examples of effective link bait methods.
Because of the power of inbound links, Link Bait is becoming more of a main stream marketing tactic. Here you will find examples and way you can create link bait to spread virally across the web.
High PR Backlinks and ROI
As with any other marketing or SEO strategies, tracking is the keyword. Without tracking your results and ROI you are very likely to loose money. What may be effective for one company may be ineffective for another. That is why you need to find out what works best for you and your company. Read more at SEOMoz.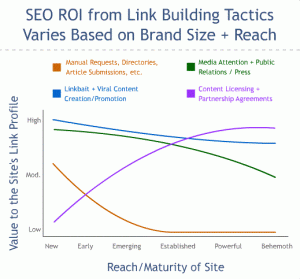 Resources On How To Get High PR Backlinks
Articles
Link Building… Time-intensive. Frustrating. Sometimes confusing. Yet Unavoidable. Because ultimately, it's still the trump card for higher rankings.
What is Link Building? Strategies & Examples – The Beginners Guide to SEO
For search engines that crawl the web, links are the streets between pages. Using link analysis, the engines can discover how pages are related to other pages and in what ways. Since the late 1990's links have also served as a stand-in for votes – representing the democracy of the web's opinion about what pages are important and popular.
Videos