Over the last week we've been writing a series of reviews on the LeapFrog series of educational DVDs – you can read our articles about the Word Caper, Letter Factory and Math Circus if you like.
Today we're going to tackle the next in the LeapFrog lineup: the LeapFrog Talking Words Factory.
This great vocabulary building tool builds from the ever popular LeapFrog Letter Factory, a movie in which the little ones learned all there is to know about the alphabet. Now they have the basic letters down, it's time to move on to the next step: forming them into words.
In the LeapFrog Talking Words Factory movie we introduce our stars Tad, Leap and Lily to the magical world of words, as Professor Quigley demonstrates the 'Sticky-ick-o-rama' and the 'Word Whammer' machines, the tools used to squeeze letters into complete words.
Throughout the movie your little ones will learn how to combine letters into basic three letter words, using catchy rhymes and catchier tunes to help them get their heads around the process. Take a quick look at the video at the top of the page to see how the LeapFrog movies work their magic.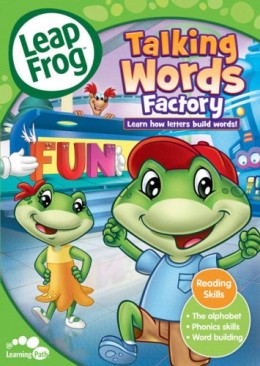 With 203 5 star reviews on Amazon (and counting) it's clear that this fun, clear and easy to understand movie really helps little minds work through the tricky process of word formation, introducing them to the concepts of vowels and consonants in a simple, intuitive way.
One parent, Janet Boyer, reported that her son was diagnosed at an early age with Pervasive Development Disorder, and as a result suffered development delays, becoming frustrated when he tried to read.
Just a few weeks after Janet bought the Talking Words Factory DVD her son was reading books on his own. In her own words, he rattles words off 'like a pro'.
The LeapFrog Talking Words DVD is available at Amazon for just $7.99 right now, and eligible for FREE Super Saver shipping.