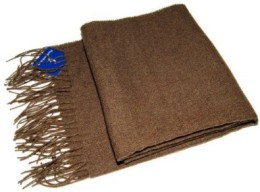 Living, as I do, in Mongolia, I've become a big fan of cashmere in recent years for two reasons. The first is that Mongolia produces about a third of the raw cashmere in the world and, since they do the processing in country, I can pick up a high quality cashmere scarf two minutes from my apartment for around $15 – scarves that would cost between $100 and $200 in the west.
The second reason is simple. Right now the winter is beginning to get into full swing, and I walked home last night from a local restaurant in -35 Celsius cold. And it'll only get colder. By this time next month the daytime low will be -40. In other words, I'm gonna need a hell of a lot of cashmere.
Today I thought I'd pen a little something for the guys out there who are interested in buying men's cashmere scarves. I know the first time I bought cashmere I had no clue if I was getting a great deal or being ripped off, and I know this isn't typical bar conversation, so it might be handy for you guys out there to use this article as a buying guide for your first cashmere scarf.
Where is Cashmere, and Where Does it Come From?
First, let's cover the basics…
Cashmere is a fiber obtained from Cashmere goats, the term used to describe any species of goat that produces cashmere in quality and quantity sufficient for commercial use. Cashmere wool is taken from around the neck, and the wool used comes from a fine, soft undercoat that sits beneath the coarser, thicker wool on the surface.
When processed, cashmere is fine, soft, light yet strong, and feels much softer than most other types of wool. If you've ever wondered why cashmere is so much more expensive than other woolen materials it's simply because it provides excellent insulation without the bulk, allowing the wearer to stay warm without looking like the Michelin Man. As a rule of thumb, 10 ounces of cashmere will provide five times the insulation of 3 pounds of wool. Yes, you read that right.
All cashmere is not born equal, though. Once the fibers have been sheared from the goat they're sorted by quality. Long, thin fibers are reserved for high quality cashmere products, while short, thick fibers are used for stuff like hats and gloves you'll find at Target for $20. That's not to say the shorter fibers are poor quality, though… Just not the best of the best.
How to Choose a Men's Cashmere Scarf
Accessories such as scarves, hats and gloves are a minefield of cashmere blends and cheap trickery. Cashmere blends (i.e. fabrics that are x% cashmere and y% something else) should be avoided if your budget allows – ideally, a cashmere scarf should be 100% cashmere.
If you're shopping on a budget, though, anything above 80% cashmere will be enough to feel the benefit – and justify the cost.
Our Cashmere Scarf Suggestions
Big Budget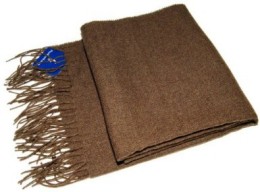 If money is no object you couldn't do much better than this brown plaid scarf from Polo Ralph Lauren. Naturally, the scarf is 100% Italian cashmere, using only the highest quality fibers and master workmanship. The edges are frayed, and the ends are tassled.
Ralph Lauren offer about a dozen color and pattern options in this price range, so you can pick and choose according to your personal taste. I favor the brown plaid as I think it'd look perfect matched with earth tones in a spring or fall outfit. Actually, that sounds much too feminine for this kind of article. Let's just say this scarf would look great with, y'know, clothes and stuff.
Mid Budget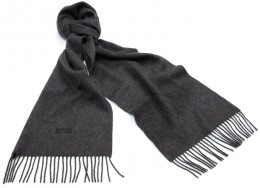 If a few hundred dollars is a little out of your price range (I'm guessing that would be most of you) I recommend this bad boy from Hugo Boss. Around the $100, this 100% cashmere scarf has fringed ends and comes in a choice of four colors: charcoal, taupe, black and purple. Charcoal would be my favorite by far.
The Hugo Boss scarf is made from good quality Australian cashmere. While the fibers aren't as high quality as the Italian cashmere used by Ralph Lauren, they're still long and fine enough for a very good quality scarf.
Low Budget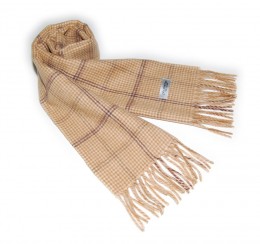 If you're really on a tight budget and you'd just like a cashmere scarf at the lowest possible price… well, I'd advise you to save up a little money, wait for the sales and find yourself a good high quality piece at a decent price. Failing that I can recommend this 2-ply houndstooth scarf from BluePresent.
The cashmere used for this scarf is medium grade, at best. While the scarf is 100% there is a marked difference in quality between this and the Hugo Boss or Ralph Lauren versions. Even so, this scarf will feel much softer and provide more insulation than any wool scarf you've owned in the past, and at just $34 you'd struggle to find a better deal.