When I was a kid, waaaay back in the earliest of the early 80s, I was obsessed with LEGO. Those little bricks could do anything, and it always filled me with wonder that a house could become a boat could become a spaceship (I was easily entertained as a child).
Back then, LEGO blocks were just that: blocks. Sure, you could make vague approximations of vehicles, but more often than not when I proudly showed my mother my latest creation her reply would be something along the lines of 'Oh, what a fantastic… speedboat? Optimus Prime? Shoe?' LEGO just wasn't that great, is what I'm saying.
Today, though, it's all changed. LEGO has come a long way from my youth, and now you can buy LEGO sets specifically designed to make vehicles straight out of the box. Sure, you could argue that LEGO was better when it was more freeform and creative, but I'm sure people who make that argument have:
a) Never seen the crappy LEGO models I made as a kid, and
b) Never seen the unbelievably cool kit toys LEGO make these days.
LEGO Racers Monster Jumper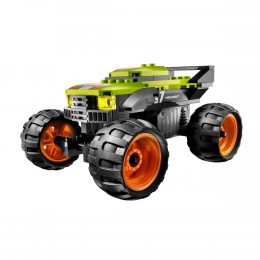 As a parent myself I've spent my share of time (and the share of at least twelve other parents) sitting with my son and sharing the job of constructing a monster truck, Formula One car or rocket ship. Don't tell little Adam, but I think I enjoy it at least as much as he does.
Anyway, after rushing out to do a little Christmas shopping last weekend I thought I'd share with you a couple of the latest LEGO monster truck toys that Adam will be unwrapping come Christmas Day (naturally, with links to the best bargains).
The first, the LEGO Racers Monster Jumper, at a little under $20 is a great little stocking filler – I picked up a couple for my nephews. The trucks themselves look really easy to put together (15 minutes construction time, tops), and they come with a pull-back motor and a small stunt ramp. Once you and the little one have put the monster truck together you can send it flying through the air in a series of stunt jumps.
I've yet to take the monster truck out of the box, but to me it looks as if the ramp is a little small for my liking – I love big jumps, and my nephews' room at my brother's place is blessedly free of anything breakable, but if your little terrors insist on playing in the middle of your collection of Ming vases and Faberge eggs it might be a good thing that the supplied ramp doesn't allow enormous stunt jumps!
LEGO Technic Rally Truck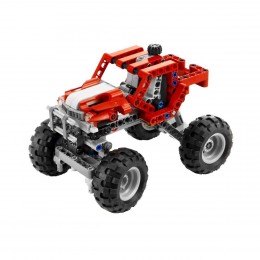 The second LEGO monster truck is one for little Adam, and I'm really looking forward to sitting cross-legged on the floor surrounded by LEGO pieces as we put this one together. The LEGO Technic Rally Truck is a 198 piece model featuring working rear suspension, a tilting front axle and working steering. While the LEGO racer was more of a basic toy, this one is a challenging engineering project that Adam will love. If you take a look at the pics to the right you'll see that this is a two-in-one truck. Once we've made the monster truck we'll be able to come back later, break it to pieces (much more fun than you might imagine) and construct the second truck.
I just know this one will occupy Adam's entire Christmas Day. Once he gets his head into these things it's as if the world around him ceases to exist. When we bought a similar model last year we had a hell of time just getting him to sit down at the table for Christmas dinner. Our day went a little something like this…
"Adam, come and say hello to Grandpa."
"In a minute, I'm just getting the steering wheel attached."
"Adam, dinner's on the table!"
… Long pause. Repeat question.
"Just oooooooone second, one of the wheels rolled under the bed."
"Adam! Grandpa's leaving! For the love of the ghost of Christmas future get your ass down here and say goodbye!"
"Vrrrrrrroooooooom! Bye Grandpa."
LEGO Monster Truck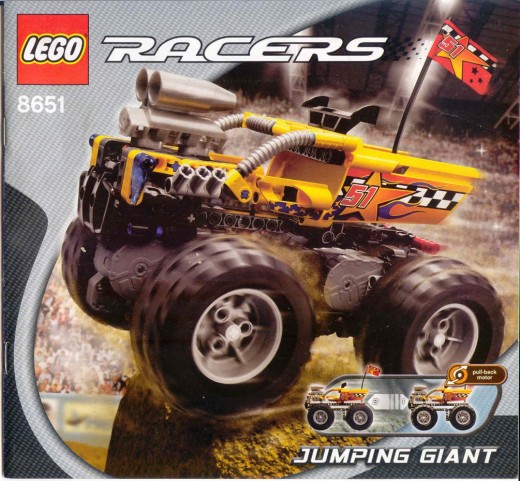 This is our – I mean Santa's – main gift for Adam, and it looks like one that'll last him through to his birthday in March. 242 pieces. Two pull-back motors. 15″ long. Enormous tires. He'll go crazy when he sees it, and I know we'll spend many hours building and modifying it, probably adding a few of his own blocks from various other vehicles until this monster won't fit through doors.
The LEGO Monster Truck is a little pricier than the other toys at about $110, but it definitely looks set to become his favorite (at least for a few months – you know how kids are). I tried to find a video on YouTube to show you what this bad boy looks like when it's fully constructed, but I'm guessing the reason there are no videos available is that this truck is so badass that video cameras spontaneously combust in their presence. A friend of mine bought this for his 11-year old for his last birthday, and as soon as I saw it I knew that Adam had to have one.