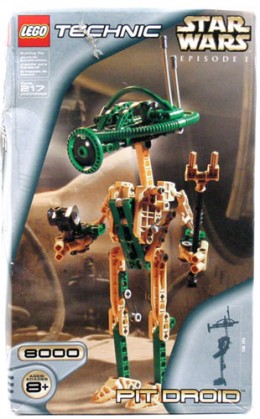 Now, I've been collecting LEGO Technic sets for many years now, but it's only recently that I decided to get into the Star Wars range. I didn't know what I was missing!
My latest acquisition is the LEGO Pit Droid 8000, a 217 piece model based on the mechanic droids in The Phantom Menace. Here's a little look at what I'm talking about…
You can spot the pit droids during the pod racing scenes in The Phantom Menace. They de-activate when you give them a pop on the head, folding down until they're mostly hidden under the mushroom-shaped cap. When the pod racers arrive, though, they spring immediately into action.
As you'll remember from the movie they're not exactly the smartest tools in the box, getting themselves sucked into engines left, right and center, but the pit droids are handy with a tool set.
The LEGO Pit Droid is everything you'd expect and more! I expected it to be pretty boring and basic, but the model has a heck of a lot of moving parts to play with. The joints attach by elastic bands, and the head can be pushed down to 'de-activate' the droid, squashing it down to a fraction of its previous size.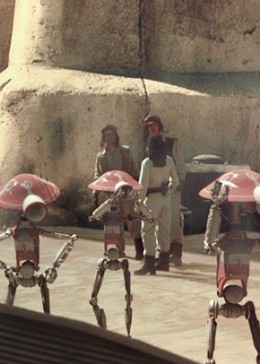 The LEGO Pit Droid is 9″ tall, which came as a pleasant surprise – I expected it to be about half that height!
Anyway, here's a bit of back story for diehard Star Wars fans. The DUM-series pit droids (DUM. Get it?) were manufactured by Serv-O-Droid, Inc., constructed by Cryrillians for labor, repair and light construction.
Despite their diminutive size, DUM-series pit droids were immensely strong and capable of carrying many times their own weight – a useful talent when an enormous pod racer engine malfunctions.