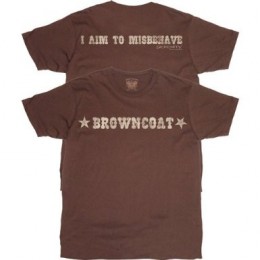 Of all the TV shows of the last decade, none has evoked as much emotion as Firefly. Fans met the cancellation of the show after just one season with surprise and anger, and any number of online appeals had no effect on the network's decision. Years went by before Joss Whedon finally managed to turn Firefly into a movie, Serenity, and now fans hope and pray that one day someone will have the good sense to revisit the show and greenlight a second season.
Until that day comes, Firefly fans can only indicate their love of the show by proudly wearing one of the many great Firefly T shirt releases. Some of the most memorable lines from the show have been emblazoned on Firefly t-shirts – in fact, we've already written about our favorite, Wash's 'Sudden But Inevitable Betrayal' T Shirt.
So. to do our bit to keep the Firefly dream alive here are a few of our favorite Firefly t-shirts. Wear them with pride, browncoats, and aim to misbehave.
Perhaps the strongest theme of the show came from the Brownshirts' rebellion against the Alliance. Captain Reynolds devotes his life to misbehavin', and this t-shirt is a great reflection of the Firefly message.
Firefly 'I Aim to Misbehave' T-Shirt
Jayne, of course, is the diamond in the rough of the show: a real badass with a heart of gold (buried deep, deep beneath his badassery).
Jayne's biggest problem was a short temper – so short that it could have run out by the time he'd read this sentence. It was important, then, for Jayne to maintain his 'calm' while you were in his presence if you wanted to keep your bones unbroken.
Firefly 'Damage My Calm' T-Shirt
In the episode 'Jaynestown' Serenity touches down at the Canton mud mine settlement to find that Jayne is something of a local hero (with his very own statue taking pride of place in the middle of town.
This Firefly T shirt commemorates Jayne, the accidental hero of Canton, the man they call Jaaaayne.
Firefly 'Jaynestown' T-Shirt