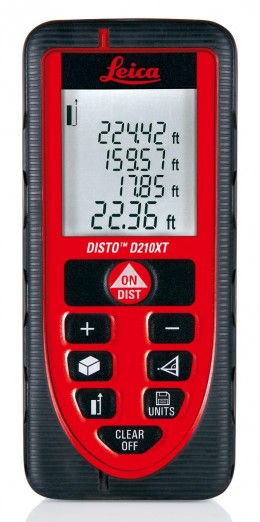 N.B. If you're not looking for the spiel and you'd just like a decent price for the Leica Disto D210XT you can feel free to scroll past my witterings to the bottom of the page.
While you may not see these things nestled in the toolkit of your average home improvement enthusiast, a laser distance measurer is a must on any professional job site. Bringing the tedious chore of accurate measurements to a fine art, Leica laser distance measurers are recognized the world over as the best of the best.
Now, I've been working on construction sites for years, and my father was an architect who often worked on site, so I've been playing with laser distance measures since they first began appearing on the market (at a reasonable price, anyhow). In fact, it's probably been a couple of years since I've had to use a tape measure for anything but 'longest stretch without bending' contests.
Right now I'm using the Leica Disto D210XT on a build in Mongolia. We're working at a mining compound down near the Gobi Desert, and as I write these words the weather outside is… well, it's beautiful, actually, but it's also -32 degrees Celsius (-26 Fahrenheit). Cold as balls, in other words.
As you can imagine this is no place to be fiddling with a tape measure. You can't take off your gloves for more than a few seconds at a time, for one thing. The Leica Disto D210XT, then, is an absolute Godsend. I can take accurate measurements (much more accurate than would be possible with a tape measure in these conditions) without even leaving the safety of my gloves.
The Leica Disto D210XT is designed with this sort of environment in mind. It's the only Leica laser distance measurer with an impact resistant housing – a valuable feature on any job site, I'm sure you'll agree. A rubber bumper wrapped around the meter gives this Leica unit protection from drops of up to 2 meters. Everything is tightly sealed (including the keypad) so the unit is dust-proof and can be cleaned under running water with no problem. Out here in the sandstorms of the Gobi this is an indispensable feature, and I can attest to the accuracy of the claim.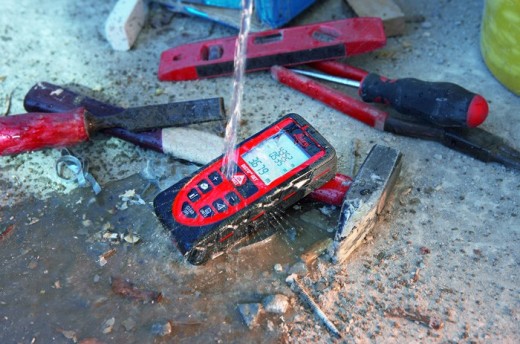 As for the functions of the Leica Disto, there's nothing to complain about. The laser has a range of 210 feet and is accurate down to 1.5mm (or 1/16 inch), and the unit features a 45 degree tilt sensor.
The Leica records the last ten measurements automatically, and the last four are displayed on the backlit screen to save you the effort of noting down each result as you go.
All in all I have zero complaints about the Leica Disto D210XT. It does exactly as promised. It's rough as nails. The features are great, and the device easy to use. This is everything you'd expect from a Leica product.
Leica Disto D210XT: Where's the Best Price?
Now, times are tough and most people don't have a lot of money to throw around on tools, so it's a good thing that the D210XT is Leica's best value laser measuring device. While Leica's high end devices retail at upwards of $700 you can find a D210XT for just $219.00 right now, with free shipping to boot. Right now there isn't a lower price on the Internet or in brick and mortar stores for the D210XT.
Even so this is still a sizable investment, so before you take the leap why not check out the opinions of other D210XT users to see if it'd be the right fit for your needs?