Firefly 'Sudden But Inevitable Betrayal' Scene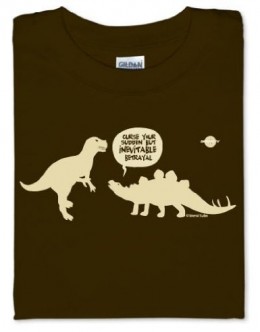 Most of our articles focus on a wide range of TV and movie costumes and accessories, but this time we'll be zooming in on one very special T shirt.
Many of the Firefly fans out there may remember 'Wash' Washburne's introduction to the show at the very beginning of episode one. The crew are out on a salvage mission while Wash plays with his toy dinosaurs on deck (always a bit of a big kid, was Wash).
"Yes, yes, this is a fertile land. and we will thrive. We will rule over this land, and we will call it… "This Land"."
"I think we should call it your grave!"
"Ah, curse you sudden but inevitable betrayal!"
"Ha ha ha! Mine is an evil laugh!"
This classic scene has now been immortalized in a fantastic little Firefly T shirt – one that even non-Firefly fans will enjoy.
The T shirt is available in chocolate brown with a cream graphic in all sizes, with the price running from $20.99 to $22.99.
I really love this T shirt. Wash is by far my favorite character in the show (and I couldn't believe they killed him off in the movie), and this is hands down my favorite Wash line.
By the way, while I have your attention did you know that Alan Tudyk won the role of Wash on the strength of his reading of the 'Sudden But Inevitable Betrayal' scene? Here's a video…