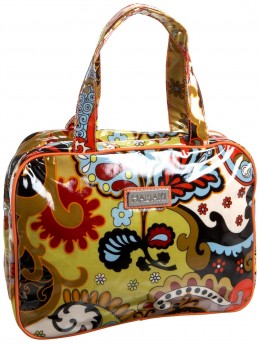 As a guy I've never really cared about my toiletry bag. OK, that's a lie. I once drove an hour out of my way to pick up a new leather and canvas bag before leaving the country for six months, and when it turned out that the store was out of stock I stuck out my bottom lip and sulked until I arrived at the airport.
The truth is that I love toiletry bags. It may sound like a silly thing to care about, but I can't help it. Since I'm on the road 365 days it's a big deal to get the little things right. My life is packed full of daily complications, unfamiliar customs and baffling languages, but if there's one thing I can control it's the location of my damned shaving cream.
Bearing that in mind, I completely understood when my girlfriend went a little crazy while shopping for a toiletry bag a couple of weeks ago in Beijing. We hiked through two enormous markets and three department stores, and each toiletry bag she found was 'just not what I'm looking for', or 'it's great, but it's not big enough for my hair brush'. I totally get it.
So, after the day long ordeal finally ended without resolution I decided to get online and find a few toiletry bags for women that she – and, hopefully, everyone else – would love.
Hadaki Makeup Pod
At 11 x 8 x 3.5 inches the Hadaki Makeup Pod is a great size whether you're traveling or staying at home. The bag is large enough to fit a full sized bottle of shampoo (I hate travel sizes), cosmetics, hair brush and anything else you want to throw in there. The hand straps are great for hanging the bag on a hook if you're on the road and stuck in a particularly unpleasant bathroom.
Inside you'll find two clear vinyl waterproof pockets for makeup and essentials, and the cavernous main compartment for everything else. The exterior is wipe-clean coated cotton, so any spills or mess can be easily cleaned up without leaving a stain.
The Hadaki Makeup Pod is available in a range of 12 patterns, and prices start at just $40.
Amy Butler Sweet Traveler Toiletry Bag
This one is ideal for girls on the go. The clean cotton exterior rolls out to reveal a range of well organised pockets, each fastened with a zipper to keep everything separate. A stow away hooks allows you to hang the toiletry bag away from a wet or dirty floor, and the leather carrying strap is great for portability.
Each of the interior pouches attach to the interior with velcro, and they can each be removed for use as a makeshift makeup bag.
The Amy Butler toiletry bag is available in a choice of three designs, each priced attractively at $89.95.
Travel Cosmetics Hanging Toiletry Case
When budget is more important than style there's nothing at all wrong with the Travel Cosmetics Hanging Toiletry Bag. The folding bag opens out to an immense 28 x 14.25 inches, and every inch of the space is filled with ten clear compartments for storage of toiletries, cosmetics and perhaps the kitchen sink.
Is it pretty? Not at all. Is it useful? Definitely. Is it cheap? At just $17.96, you tell me.
Hadaki Toiletry Pod Travel Bag
Finally, for those girls who don't feel the need to carry seven types of conditioner and a couple dozen lipsticks the Hakadi Travel Bag would make a perfect lightweight toiletry bag. At 2 x 10 x 6 inches this compact women's toiletry bag is just large enough for the essentials and nothing else.
While the bag may be diminutive it also means more room in your luggage for more important stuff (i.e. shoes).
The Hadaki Travel Bag is available in 21 patterns, with prices beginning at just $19.99.
Anyway…
My advice is this. If you're in the market for toiletry bags for women you probably shouldn't leave it until you arrive in northern China in mid winter to pick one up. The shopping sucks.