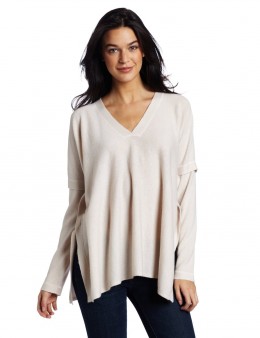 Since moving to Mongolia, home of a third of the world's cashmere production, my partner and I developed a deep love for this soft, insulating and beautiful fabric. Looking in our closet you'd be forgiven for thinking we'd opened our own branch of Gobi Cashmere. We've got sweaters, socks, scarves, gloves, leggings and hats left right and center, and despite the deathly chill of this -35 Celsius Mongolian winter we never fear the cold (cashmere is 25 times more insulating than regular wool).
The one thing we didn't have – until recently, at least – was a cashmere poncho. My girlfriend had been hungrily eyeing the poncho in a local cashmere store but I'd been refusing to buy it as an early Christmas gift. Surely she didn't need it – we're already pretty much covered head to toe in cashmere.
Anyway, I came home from work the other week to find that she'd gone out and bought the cashmere poncho by herself.
And now I want to steal it.
Seriously, this thing looks like the most comfortable item of clothing in history. Cashmere ponchos look as if a benign God weaved them from pure happiness. I sneakily tried on the poncho while my girlfriend was out walking the dog earlier, and I can confirm that, while it looks ridiculously feminine on me, I've never worn anything even nearly as comfortable.
So, in honor of the cashmere poncho I had my girlfriend do a little online shopping and pick out some of her favorite, stylish, good value cashmere ponchos. Here we go…
Big Budget
If money isn't an issue you couldn't do much better than this beautiful women's cashmere poncho from Velvet. This poncho is made in China from 100% Mongolian cashmere (some of the best in the world).
The poncho is navy blue, and the 2-ply cashmere comes in a cable knit for a little extra thickness and warmth.
Mid Budget
If $400+ is a little steep for a cashmere poncho a great mid-budget alternative is this Christopher Fischer Karolina poncho.
The poncho is, naturally, 100% 2-ply cashmere of the highest quality from Mongolia, deeply cut in the sides and with a double layer look to the sleeves. The Fischer poncho is available in vanilla cream of blue mussel.
This poncho is currently reduced from $475 to just $285, a 40% savings.
Low Budget
If you're on a very tight budget it might make more sense to forego 100% cashmere in favor of a cashmere blend. This cashmere/lambswool blend poncho comes straight from the Mongolian steppe, and while it may not be 100% cashmere it's made from extremely high quality fabric.
The poncho is available in red only, and for a limited time the price has been reduced from $149 to just $95 (with only 9 left in stock, at time of writing), putting it firmly in the price range of anyone who wants to give cashmere a try.