As a kid I was absolutely obsessed with my collection of LEGO blocks (I've already written about how I've instilled the love of LEGO in my 9 year old son). I used to spend hours constructing elaborate structures: skyscrapers, trucks, rocket ships and everything in between.
The only problem with old school LEGO was that the blocks were pretty basic. Sure, you could make cool buildings, but for any level of detail you were pretty much screwed. This is why I love the new generation of LEGO construction sets, and why I'm so pleased that I have a son to share my enthusiasm with (and, to be honest, to give me an excuse to play with LEGO in my 30s).
One of my favorite LEGO sets right now is the LEGO City Train Station 7937. If you haven't seen it yet, here are a couple of pics…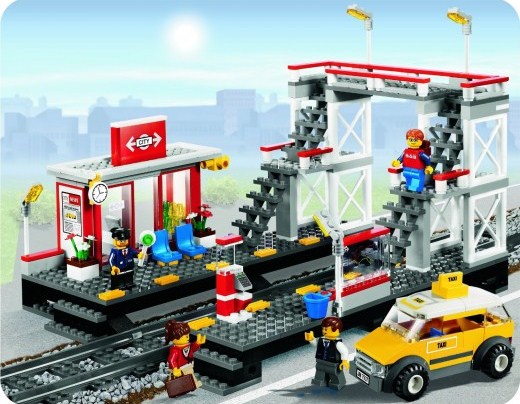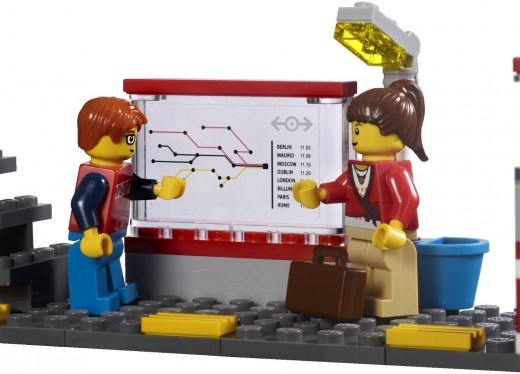 I really love the level of detail and the care that's been put into this LEGO set. Everything is just so much more rich and detailed than the LEGO of my youth, and while some critics preferred LEGO when you were just given a tub of rectangular blocks and left to the limits of your own imagination, I love the fact that I can sit down with my son and help as he puts together an exact model of a train station (and, if he wants to exercise his creativity, we have plenty of spare blocks from his other collections with which to modify the basic model).
The LEGO City Train Station 7937 (7937, by the way, is the model number. A larger train station, the 7997, is also available) is the perfect size for a tabletop, at 11″ in length. The set includes:
4 minifigures: 1 train driver, 1 cab driver and 2 passengers
1 yellow cab with space for the driver and 1 passenger
Station platform with timetables, kiosk, ticket machine and waiting area
Pedestrian footbridge for passengers to safely cross the tracks (you don't want to stand in front of a LEGO train)
I bought the City Train Station for my son a couple of years ago on a business trip to the UK (LEGO is so popular there I'm surprised they didn't use it to build London), and at the time it cost me £60, or a little more than $90. I thought this was a little too expensive, so in writing this article I had a look around the internet to track down the lowest price right now (Christmas is on the way, after all).
The cheapest LEGO City Train Station 7937 I could find, unsurprisingly enough, came from that old standby Amazon. At $59.29 (with free shipping in the US) the set is more than 50% cheaper than the price I paid in the UK – damn you Limeys!
While I was searching around I found something a little surprising. I expected the price to be cheapest on the LEGO website itself, but when I visited I found that their price, once tax and shipping are added, comes out higher than Amazon. What gives, LEGO?
By the way, if you've never seen a seemingly drunk dude reviewing LEGO products you should check out the video. Hilarious!