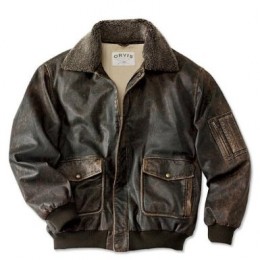 Ever since I first watched Top Gun back in the 80s I've had a peculiar obsession with leather flight jackets. In my mind there's just nothing cooler, and no matter how many other fashion fads come and go, leather flight jackets will always roll on.
Here's the thing, though. The prices of leather flight jackets vary wildly, and if you're looking into buying your first it can be a little difficult finding the correct price point. Will you suffer from low quality if you buy a flight jacket for $100 or so, or will you be taken for a sap if you spend $500? It's hard to tell.
Luckily, I know a little about the subject, and after buying several leather flight jackets over the years I think I'm qualified to offer a little advice. Here, then, are my picks of the best leather flight jackets available, to suit every budget.
Sub $200 Flight Jackets
Air Force A-2 Leather Bomber Jacket
Modeled on the original A-2 issued to US Air Force pilots, navigators and bombardiers since WWII, this high quality replica is made to the same standards as the original. The jacket is constructed from high quality lambskin, very soft to the touch and not as tough as other types of leather. The pockets are dual entry, and the cuffs are ribbed.
I own one of these jackets, and I can confirm that they're very, very good – much better than you'd expect from the reasonable price. While I perhaps wouldn't trust the soft leather to any rough and tumble activity it's perfectly suited to day to day life. Best of all, it looks fantastic.
You should ignore the Amazon list price displayed in the link to the right. As of December 2012 this jacket is on sale from between $99-$129, depending on size. Now's the time to grab one!
p.s. This jacket has a big brother, the G-1 bomber jacket, that comes with a cool fur collar.
Sub $500 Flight Jackets
The Spirit Leather Flight Jacket by Orvis
This was one of my first jackets to cost more than $200, and as soon as it arrived I knew I was in love. The Spirit jacket is constructed from extremely high quality lambskin, comes with a genuine shearling collar (removable for cleaning), rib-knit cuffs and hem, cotton twill lining, five exterior and two interior pockets.
It's not easy to explain but this jacket just feels solid, if that makes any sense. It somehow feels more real than other jackets. It's solid without being too heavy, strong without being coarse, and because of that it's still among my favorites.
The Spirit leather flight jacket is available right now for $295. It'll be the best money you've every spent.
Unlimited Budget Crazy Price Tag Flight Jackets
Cockpit Leather Flight Jacket by Orvis
Finally, this US-made piece (Cockpit G-1 Top Gun Navy Jacket) is the Holy Grail of leather flight jackets. Built to 1960s specifications from genuine goatskin, this jacket has been subtly aged to create the illusion that it's logged hundreds of hours in the air.
The jacket features knit cuffs, 2 outer pockets and one secure inner pocket, but the main feature has to be the 17 naval patches sewn onto the jacket exterior.
As a Brit I never dared try this, but I've heard fantastic reviews from American friends who've had the balls to go out and purchase one. The standard review is 'good Lord, this is the best jacket I've ever worn'.