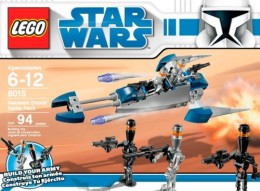 Every kid loves Star Wars, and I've yet to meet a youngster who doesn't go crazy for LEGO sets, but when you put the two together you can often come up with an expensive result.
Star Wars LEGO sets, you see, can be craaaazy expensive. This Christmas, then (and, hell, birthdays, Bar Mitzvahs and whatever events come up in the year when you might conceivably find yourself shopping for LEGO), you might be in the market for cheap LEGO Star Wars sets.
To aid you in your search we've sifted through the hundreds of Star Wars LEGO products on the market to find a range of Star Wars LEGO sets that don't break the bank. All of our chosen sets come in with a price tag below $25, so any of these should be cheap enough to throw in a Christmas stocking without hurting your wallet too much.
LEGO Star Wars Assassin Droids Battle Pack
This complete set includes everything a kid needs to fire up his imagination. The main component of the set is a LEGO droid speeder with 2 flick fire missiles, but as a bonus you'll also get 3 Assassin Droid minifigures and 2 Elite Assassin Droids. The Droids are all armed with deadly blasters, so your little Star Wars fan can re-enact the droid battles of Star Wars with this great 94 piece set. At just $16.85 you can't go wrong with this LEGO Star Wars set.
Empire Strikes Back Rebel Speeder Set
Like any grown Star Wars fan with a little common sense I much prefer the original trilogy to the new movies, so I can't help but love this Empire Strikes Back rebel combat speeder set.
The set contains a cool combat speeder equipped with 2 flick missiles and manned by what is surely the toughest LEGO minifigure in history: rebel pilot Zev Sensca and his fantastic mustache. The set also comes with 3 rebel troop minfigures, all armed with rebel blaster and equipped with cold weather gear to survive the icy conditions on the planet Hoth.
Anakin Skywalker Freeco Speeder Set
This Freeco Speeder comes with an opening cockpit and working cargo compartment. The Anakin Skywalker minifigure comes equipped with cold weather gear and a blue lightsaber, and a second minifigure, a Talz Chieftain, is armed with a spear.
This cheap LEGO Star Wars set is based on the new Clone Wars series, so it's a great gift for young fans of the latest Star Wars adventures.
LEGO Battle of Naboo Set
At just $23.99 the Battle of Naboo LEGO set represents the best value for money of any set available. The main component of the set is a 9″ long Droid Troop Carrier, and inside you'll find no less than 8 battle droids ready for action. The set also includes 2 droid pilots, a Jar Jar Binks minifigure and a Gungun fighter. All in all, then, this set comes with 12 bonus figures, all armed to the teeth with blasters and energy shields.
Plo Koon Jedi Starfighter Set
Finally, for just $23.99 you can get a 10″, 175 piece set including Plo Koon's Jedi Starfighter with a cockpit ejection seat.
The set also includes a new R7-D4 astromech droid and a Jedi master Plo Koon minifigure. With 175 LEGO pieces included in the set your little one will have hours of fun constructing the starfighter and re-enacting the battles of the Clone Wars.
So there you have it: 5 great, cheap LEGO Star Waes sets available for less than $25. If you've buying for a little Star Wars fan this Christmas you can't go wrong with any of these sets (personally, though, I love playing with the Battle of Naboo set).
Merry Christmas!