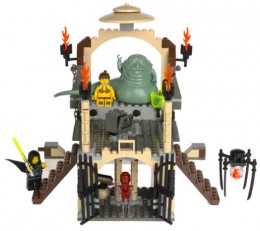 When you think of LEGO characters you pretty much picture a simple figure: 2 legs, a roundish head and little claw hand things. Pretty simple, right?
A few years ago, though, when LEGO realized the potential of movie tie-ins with such franchises as Star Wars and Harry Potter, LEGO characters began coming in all sorts of shapes, starting with the non-standard head mold for Jar Jar Binks and culminating in the bulbous, grossly obese figure of Jabba the Hutt.
Over the years there have been several Jabba the Hutt figures and sets released for fans of LEGO and Star Wars, so today we're gonna take a look at the various collectible toys available. Let's begin with the basic Jabba the Hutt LEGO minifigure..
LEGO Jabba the Hutt
This highly collectible minifigure was issued exclusively with the LEGO sets Jabba's Palace and Jabba's Sail Barge. Both sets are long discontinued, so the Jabba figure is highly prized aming collectors.
The figure itself is pretty basic, a fact that belies the cost. Jabba is, of course, a fat, pretty featureless lump and the LEGO figures stays true to that – it's pretty damned ugly.
Right now you can only find the Jabba the Hutt minifigure at a couple of outlets, and Amazon is the only place I know that sells it for less than $100. Not a price suitable for a regular lover of Star Wars LEGO, but I'm sure there are collectors out there desperate to get their hands on a LEGO figure of this classic (if fat, cruel and ugly) Star Wars character.
LEGO Jabba's Palace
If you scoffed at the price tag for the LEGO Jabba the Hutt minifigure it's not gonna get any better from here on in. The extremely rare LEGO Jabba's Palace retails at a truly insane $375. There must only be a few diehard collectors willing to lay down that much cash for the set, but while anyone can do it the price ain't coming down.
The Jabba's Palace set includes Jabba the Hutt, Princess Leia slave, EV-9D9, B'Omarr Monk and Gonk Droid minifigures. The set is pretty simple, comprising the main room of Jabba's palace with a trapdoor dropping down to the Rancor's lair.
LEGO Jabba's Sail Barge
Moving on to a later scene in the movie, the action shifts to Jabba's sail barge as the fat load comes to watch his victims fall into the Sarlacc pit, where, in his belly, they would find a new definition of pain and suffering as they were slowly digested over thousands of years.
the 18″, 781 piece LEGO set features Jabba's sail barge, a desert skiff and the Sarlacc pit itself. The set comes with multiple minifigures, including Jabba, Luke Skywalker, Bobba Fett, Han Solo and Princess Leia.
At $529 this is another set that's strictly reserved for the serious Star Wars LEGO collector.
LEGO Jabba's Prize
Of course not all LEGO Jabba the Hutt sets have been pushed into the realm of maddeningly expensive collector's items. The sets that remain at a reasonable price may be small, but if you have your heart set on a Jabba LEGO set you can at least grab one for less than $100.
The Jabba's Prize set is a simple but highly collectible scene. The set features Han Solo frozen in carbonite, guarded by Bobba Fett and a Gamorrean Guard. Obviously, at just 39 pieces the set is small and basic, but if you want to see Han Solo as he's never been seen before in the LEGO universe this is a must-have.
LEGO Jabba's Message
Finally we have another reasonably priced LEGO Jabba set. Jabba's Message depicts the main entrance to Jabba's palace, featuring LEGO minifigures of C-3PO, R2-D2 and Bib Fortuna. This set combines with the Jabba's Palace and Jabba's Prize set – provided you have about a thousand dollars necessary to buy all three.