With Christmas fast approaching I've been frantically searching around for the perfect gift for my young son Adam. I like to buy gifts that can bring us a little closer together, so I love the construction projects offered by LEGO.
I've been madly in love with LEGO since I was Adam's age, and I've loved the way that LEGO has evolved over the years. Back when I was a kid we just had simple rectangular LEGO blocks and the limits of our imagination, but today there are hundreds of LEGO sets designed for one specific purpose (see the Star Wars and Harry Potter LEGO sets).
This Christmas I've bought the LEGO Star Wars Clone Turbo Tank 8098. It looks to be the hit of Christmas, and I can't wait to sit down at the table to start constructing this mammoth 1,141 piece set with little Adam.
Here are a few pics of what awaits us on Christmas morning…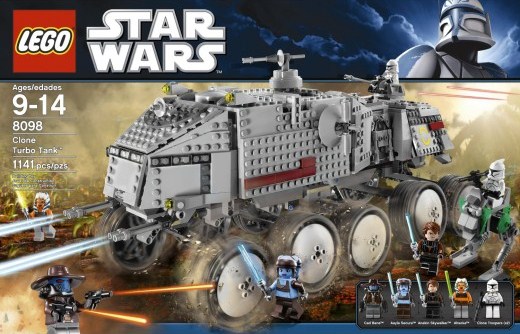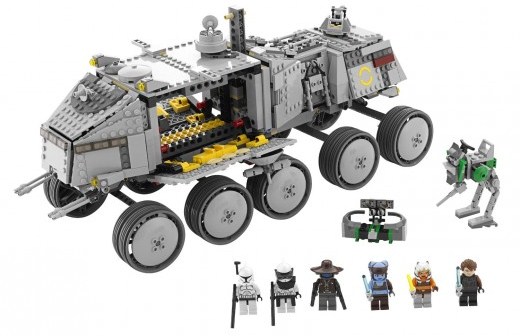 This thing looks pretty epic. The tank is an immense 45cm long by 20cm high, so you get a heck of a lot of bang for your buck. You also get dual cockpits, movable guns, a command post, flick fire missiles, flexible suspension and fully turning wheels.
When you fold down the external panels on the Clone Turbo Tank you'll find a foldable scout walker, and the set comes with several minifigures: Anakin Skywalker, Aayla Secura, bounty hunter Cad Bane, 2 clone troopers and 1 battle droid.
To be honest, I was pretty hesitant about buying the Star Wars Clone Turbo Tank for Adam. I originally found it on the LEGO website where the price is $119.99 plus shipping and tax. Once everything was included the price would have been $158.67 – a little too rich for my blood.
I was about to give up and find something else when I decided to check Amazon. I didn't really expect it to be cheaper at a third party website, but a couple of times I've gotten lucky with Amazon's LEGO prices.
Sure enough, the Star Wars LEGO Clone Turbo Tank was on sale in Amazon for just $99.99 with free shipping. Boom!